The renowned Armenian pianist and composer Tigran Hamasyan returns to Ireland for an unmissable solo concert.
When: Friday, 7 April 2017, 8 pm
Where: Christ Church Cathedral
Tickets: €35 (Nave/Centre), €25 (Side Aisles) | Christ Church Cathedral Seating Plan
Purchase Tickets (No Booking Fees): from eventbrite
Presented by: Waltons World Masters and the Honorary Consulate of the Republic of Armenia in Ireland.
More details are available at the event webpage.
The celebrated Armenian jazz
pianist and composer returns to
Ireland for an unmissable solo concert.
Christ Church Cathedral
Friday, 7 April 2017
TIGRAN
HAMASYAN
Christ Church Cathedral
Friday, 7 April 2017 @ 8 pm
Presented by
Waltons World Masters
Honorary Consulate of the
Republic of Armenia in Ireland
Tickets from eventbrite.ie (no booking fees)
Full price: €25 – €35
10% discounts for World Masters mailing list
subscribers: €22.50 – €31.50
(Please email us, using the same email
address with which you are subscribed
to our mailing list, and we will send
you a discount code that you can use
to purchase up to four tickets.)
'A mature and great and rich
and deep artist.'
– Chick Corea
'Tigran, you are my teacher.'
– Herbie Hancock
'He plays piano like a raga
– the next Keith Jarrett.'
– Trilok Gurtu
'Hamasyan's distinctive musicality blends
jazz, European classical music and an array
of influences like progressive-rock and DJ
mixing. Yet the common thread is the
inventive way the music balances ethnicity
with a modernist verve.'
– All About Jazz
The celebrated Armenian pianist and composer returns to Ireland for a solo concert in the majestic surroundings of Christ Church Cathedral.
•
Tigran Hamasyan is one of the most remarkable musicians of his generation – trained as a classical and jazz musician but drawing on a wide range of influences, including the Armenian folk tradition, rock, electronica, spoken word poetry and more.
Tigran first came to Ireland in June 2012, at the age of 24, to perform a solo concert, based on his album A Fable (Verve), in the National Concert Hall's John Field Room. The concert was presented by Mintaka Music and Waltons World Masters, and it displayed the astonishing range and depth of Tigran's music.
'This was a virtuosic tour de force,
the wealth of ideas matched by genuine
craft in his songwriting.'
– Laurence Mackin, Irish Times review
Returning here for a second World Masters Series concert in May 2014, Tigran and his trio performed music from his second album, Shadow Theater (Universal) in the Button Factory and explored new avenues – both sonic and electronic – while drawing on sources as diverse as Madlib, Sigur Rós and Steve Reich.
'I had seen Tigran Hamasyan live in a solo
concert some time ago and have enjoyed
his various studio combinations, but nothing
prepared me for the musical experience
of his recent Button Factory trio concert.
Bassist Sam Minaie and drummer Arthur
Hnatek, along with Tigran's use of electronic
loops and beat-box vocals, place the trio
in the forefront of contemporary sounds
while still maintaining elements of the jazz
piano influence of Keith Jarrett and Chick
Corea, all rooted by a strong backbone of
traditional Armenian folk music. A rare
combination – a rare treat – if it
comes your way don't miss it!'
– Carl Corcoran, RTÉ lyric fm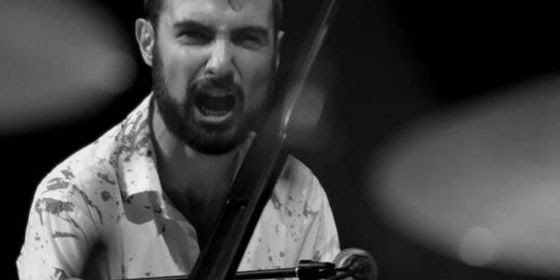 Tigran's third visit here was in October 2015 for a performance in Christ Church Cathedral commemorating the centenary of the Armenian Genocide and presented by Waltons World Masters in association with the Honorary Consulate of the Republic of Armenia in Ireland. Tigran and the superb Yerevan Chamber Choir performed music from Luys i Luso ('Light from Light', ECM), a breathtaking re-imagining of Armenian sacred music from the 5th to 20th centuries, with Tigran's sublime improvisations woven into the musical texture.
'The music and setting were sublime.
I drove for an hour and a half to attend
the concert and the same again after it.
It was well worth the effort.
More like this please.'
– C. Corrigan
'Thank you for a wonderful concert.
It was very moving to hear sacred choral
works that are part of a centuries-long
tradition being reinterpreted and given new
life with such respect and appreciation for
their original beauty.'
– Y. Fujita
'Transportingly beautiful, both the choral
and the piano parts, in a most appropriate
and beautiful surrounding –
Christ Church Cathedral.'
– D. Kelly
We are delighted to bring Tigran back for his fourth World Masters Series concert – also in association with the Honorary Consulate of the Republic of Armenia in Ireland, and again in the majestic surroundings of Christ Church Cathedral – in which he returns to his musical roots as a solo pianist to showcase music from his new album An Ancient Observer (Nonesuch).
Conceptually, this poignant album is all about the art of observing. 'It's something that humans have been practicing for ages, sometimes even subliminally', he says. 'It's the feeling of the ancient eternal and permanent versus the present day ephemeral and impermanent. The intertwining of this ancient with the modern world creates an existential feeling. This album is presenting an observation of the world we live in now and the weight of our history we carry on our shoulders, which is influencing us even if we don't realize it. This album is the observation of influences and experiences I had.'
Most of all, the music is inspired by Tigran's recent return to live in his native Armenia: 'I gaze out of my window and see the biblical mountain Ararat with perpetual snow on its peak, with electrical towers with wires in the foreground cutting the picture, and satellite dishes melted onto old and modern houses – ancestral smoke coming out of their chimneys – and birds hovering above the trees along with occasional airplane trails in the vast sky. It is a dialogue, this interaction of God-given ancient nature with our modern human achievements…. For me it is an awakening, and a beautiful feeling, to be able to observe the magnificence of this sleeping volcanic giant, which has existed for millions of years and was observed by the Ararat Valley Koura-Arax culture through to the present day citizens of the Armenian republic. I can see and observe the same birds, animals, rivers, and mountains that the craftsman of 4,000 years ago painted on a clay vessel. He was observing the same thing I observe now, and what remains is a beautiful work of art.'
Listen to 'Fides Tua' from An Ancient Observor.
Waltons World Masters Series
Since 2003, Waltons New School of Music's
World Masters Series has brought to Ireland
some of the world's most extraordinary
musicians and performing groups.
See www.newschool.ie/worldmasters for
more information and past World Masters.